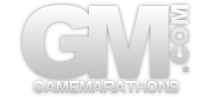 Our fundraiser is now the latest entry at GameMarathons.com!
Tom, the site admin, had this this to say about our event:
If this turns out like I think it might, you could very well be raising the bar for what goes on at these marathons, this sounds like one of the best ideas in a long time.  I haven't played Amnesia and it's probably not a game I would have looked at otherwise, but now you got me looking forward to this!
I've got a good feeling, guys.